What is MRD?
Minimal residual disease (MRD) can help predict future outcomes in multiple myeloma, CLL, B-ALL, and DLBCL
MRD refers to the number of cancer cells that can stay in the body during and after treatment. These cells can be at such low levels that they don't cause any physical signs or symptoms. But that doesn't mean the cancer is totally gone.1
Therefore, your doctor needs very precise options, like clonoSEQ®, to help measure MRD and assess your response to treatment over time.1-5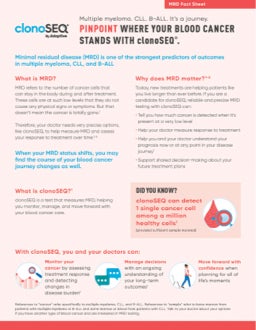 MRD: What You
Need to Know
Today, new treatments are helping people with blood cancer do better than ever before. If you are a candidate, clonoSEQ can:
Tell you how much cancer is detected even when the cancer is at a very low level
Help your doctor measure your response to treatment
Help you and your doctor understand your prognosis now and plan for treatment decisions later1
The insights you and your doctor get from clonoSEQ can support shared decision-making about your care.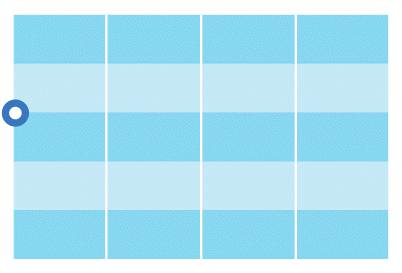 In one survey, 60% of doctors said they would change at least one decision based on their patient's MRD status—even if all other factors remained the same.6
Together, you and your healthcare team can track your MRD trends and use them to inform important decisions about your care.7-9
---
This page is intended for a US-based audience.
clonoSEQ® is an FDA-cleared test used to detect minimal residual disease (MRD) in bone marrow from patients with multiple myeloma or B-cell acute lymphoblastic leukemia (B-ALL) and blood or bone marrow from patients with chronic lymphocytic leukemia (CLL). clonoSEQ is also available for use in other lymphoid cancers and specimen types as a CLIA-validated laboratory developed test (LDT).
clonoSEQ is only available by prescription from a licensed healthcare professional. Results may vary. Talk to your healthcare provider to see if clonoSEQ testing is right for you. For important information about the FDA-cleared uses of clonoSEQ including test limitations, please visit clonoSEQ.com/technical-summary.
References
clonoSEQ®. [technical summary]. Seattle, WA: Adaptive Biotechnologies; 2020. https://clonoseq.com/technical-summary
Pulsipher M, et al. Blood. 2015;125(22):35‌01-35‌08.
Wood B, et al. Blood. 2018;131(12):13‌50-13‌59.
Perrot A, et al. Blood. 2018;132(23):24‌56-24‌64.
Thompson P, et al. Blood. 2019;134(22):19‌51-19‌59.
Derman B, et al. Blood Cancer J. 2022;12(7):108.
Martinez-Lopez J, et al. J Hematol Oncol. 20‌21;14(1):126.
Friend B, et al. Pediatr Blood Cancer. 20‌20;67(2):e28‌07‌9.
Al-Sawaf O, et al. J Clin Oncol. 2021;39(36):4049-4060.