Get helpful information about MRD and clonoSEQ®
clonoSEQ patient brochure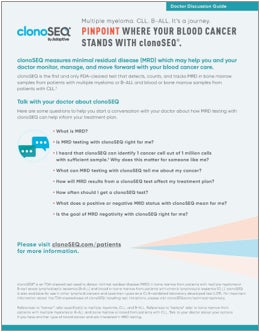 clonoSEQ DOCTOR DISCUSSION GUIDE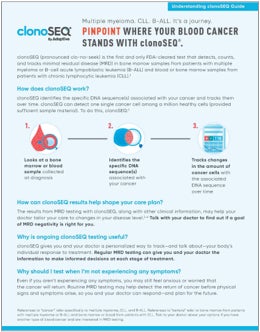 UNDERSTANDING clonoSEQ GUIDE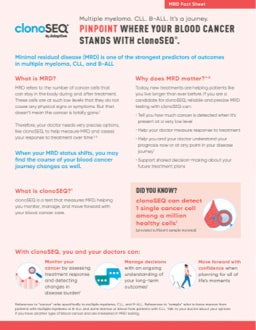 ---
This page is intended for a US-based audience.
clonoSEQ® is an FDA-cleared test used to detect minimal residual disease (MRD) in bone marrow from patients with multiple myeloma or B-cell acute lymphoblastic leukemia (B-ALL) and blood or bone marrow from patients with chronic lymphocytic leukemia (CLL). clonoSEQ is also available for use in other lymphoid cancers and specimen types as a CLIA-validated laboratory developed test (LDT).
clonoSEQ is only available by prescription from a licensed healthcare professional. Results may vary. Talk to your healthcare provider to see if clonoSEQ testing is right for you. For important information about the FDA-cleared uses of clonoSEQ including test limitations, please visit clonoSEQ.com/technical-summary.