Leading clinicians across the country routinely use clonoSEQ
From elite academic institutions to precision medicine-focused community settings, clonoSEQ—the first MRD test FDA-cleared for multiple myeloma, CLL, and B-ALL—is increasingly becoming standard in clinical practice.
clonoSEQ in the
clinical setting
View real-world cases, perspectives, and data.
Centers using clonoSEQ in routine clinical practice to advance patient care
Broad adoption1:
>22,000 unique patients tested
All 32 NCCN® Member Institutions currently testing in clinical practice
Used in 49 out of 50 states
Significant and growing body of evidence:
>90 peer-reviewed publications
>75 ongoing prospective studies in partnership with clinician investigators
Test of choice for >40 biopharma companies in >190 clinical trials
About clonoSEQ
With state-of-the-art MRD assessment, what gets measured gets managed®
Sensitivity
Detect MRD at low levels that correlate with patient outcomes: a single cancer cell among a million healthy cells, given sufficient sample input. This offers prognostic value to clinicians as they assess how patients respond to treatment.2,3
Specificity
Precisely identify and quantify tracked malignant cells. Once the DNA sequences of the B- or T-cell receptors associated with these cancer cells are identified, the level of each specific sequence can be assessed in subsequent MRD samples.2
Standardization
Ensure consistency and reproducibility of results for patients over time. clonoSEQ has undergone extensive analytical and clinical validation, fulfilling requirements for FDA clearance for in vitro diagnostic use.2,3
How clonoSEQ works
Precisely identifying MRD at the DNA sequence level
Swipe to view more
Each B- or T-cell receptor is coded by unique DNA sequences made of 3 segments—Variable, Diversity, and Joining—that serve as DNA "barcodes" that can be used to track malignant cells.2,4


Swipe to view more
Malignant B or T cells* may remain in a patient's body during and after treatment, which may eventually cause recurrence.2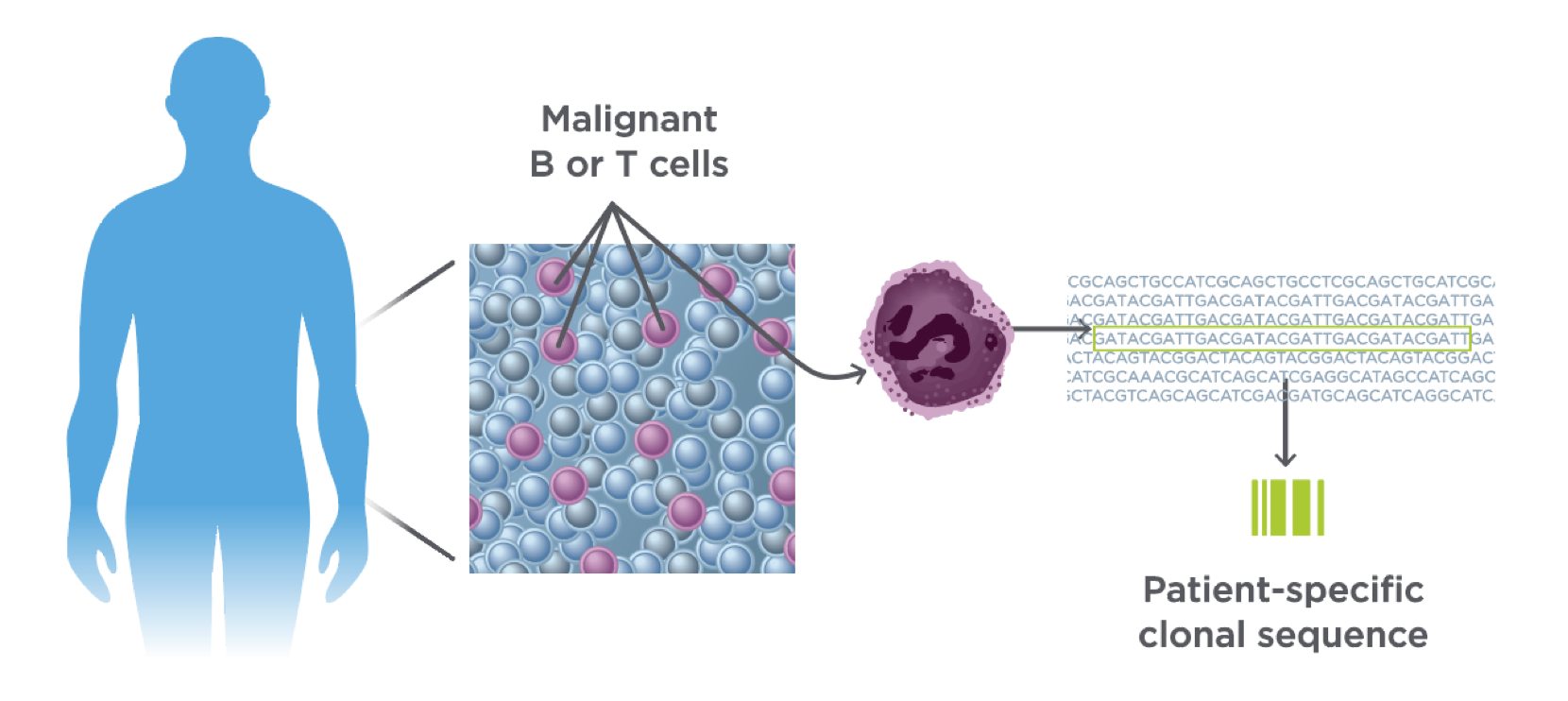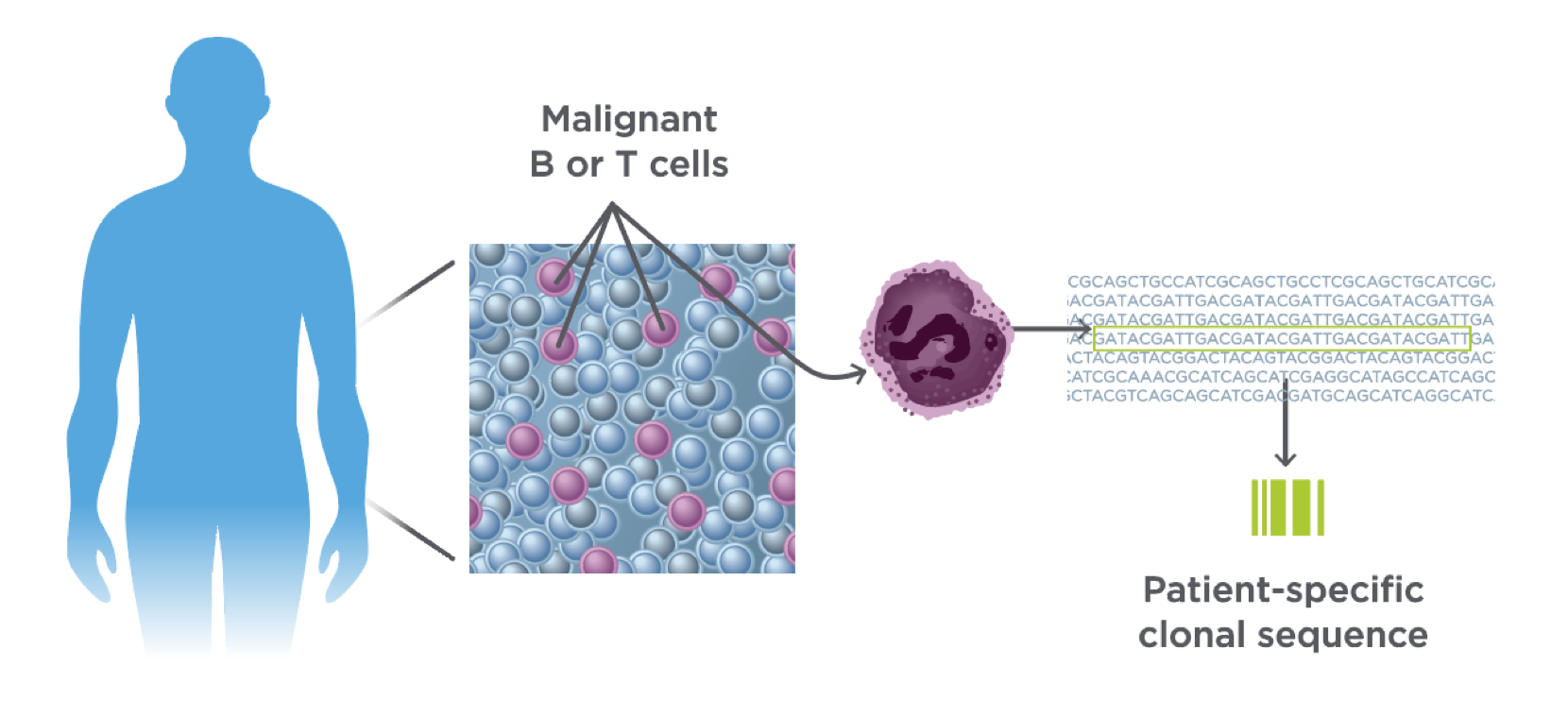 Swipe to view more
clonoSEQ identifies and quantifies unique B- and T-cell receptors associated with the malignant clone; these MRD results are a direct measure of the tumor.5,6
Get clonoSEQ questions answered
Visit our product inquiry page for medical information requests, to connect with a rep, and more.
The Power of Immunosequencing
See how the unique biology of B-cell and T-cell receptors enables identification and tracking of individual lymphocytes.
*T-cell testing is available as CLIA-validated LDT and has not been cleared or approved by the FDA.
---
This page is intended for a US-based audience.
clonoSEQ® is available as an FDA-cleared in vitro diagnostic (IVD) test service provided by Adaptive Biotechnologies to detect minimal residual disease (MRD) in bone marrow from patients with multiple myeloma or B-cell acute lymphoblastic leukemia (B-ALL) and blood or bone marrow from patients with chronic lymphocytic leukemia (CLL). CLL Clonality (ID) Tests will also produce an IGHV status result, which is provided as a CLIA-validated laboratory developed test (LDT) but which has not been cleared or approved by the FDA. Additionally, clonoSEQ is available for use in other lymphoid cancers and specimen types as a CLIA-validated LDT. For important information about the FDA-cleared uses of clonoSEQ including test limitations, please visit clonoSEQ.com/technical-summary.
References
Abbas A, et al. Cellular and Molecular Immunology. 9th ed. Elsevier; 2018.
Carlson C, et al. Nat Commun. 2013;4:2680.
Faham M, et al. Blood. 2012;120(26):5173-5180.