MULTIPLE MYELOMA
FDA‑cleared in bone marrow, CLIA‑validated in peripheral blood
Know where you stand
Multiple myeloma is a cancer of fully developed B cells in the bone marrow that are called plasma cells. Two factors contribute to the symptoms of this cancer: the overproduction of the cancerous plasma cells and the overproduction of proteins, known as "Ig" or "M" proteins, by these cancer cells. These factors can lead to multiple symptoms, including broken bones, kidney problems, and low counts of normal blood cells (which can then result in feeling extra tired or frequently being sick).1
Multiple myeloma is a disease with lots of ups and downs—for some people, it appears to have gone away and then returns.1 Any amount of residual disease may mean increased risk that your cancer will get worse.2 You and your doctor can discuss options for changing therapy, which may improve your prognosis.3
clonoSEQ patient brochure
When should you monitor with clonoSEQ®?
There are several stages of treatment for multiple myeloma. Your doctor may want to check after each stage, to see how effective treatment was before moving to the next stage. For example, if you are eligible for a bone marrow transplant, your doctor may choose to use clonoSEQ at the following time points:
1
Initial diagnosis4
Identify cancer cell DNA (Clonality ID Test)
This clonoSEQ test provides a baseline. Because it will have the largest number of cancer cells, it helps clonoSEQ know which cells to track over time in subsequent MRD tests.
2
After induction therapy4
This first part of your treatment usually includes targeted therapy and corticosteroids. Your doctor may test to see how well you have responded, prior to transplant.
MRD testing with clonoSEQ
3
After stem cell transplant (if you receive it)4
Healthy stem cells replace the stem cells in your bone marrow that the pre-transplant chemotherapy destroyed. Again, your doctor may test to assess your disease status.
MRD testing with clonoSEQ
4
After consolidation therapy (if you receive it)4
This short course of treatment helps make your previous targeted therapy/corticosteroids and stem cell transplant work better. Your doctor may check your MRD levels to know how you responded.
MRD testing with clonoSEQ
5
During maintenance therapy and beyond4
A low dose of a targeted therapy given over a long period of time may help maintain or even improve the good results of prior treatments. Guidelines suggest monitoring with clonoSEQ at least every 12 months during maintenance therapy and beyond. Your MRD status can help inform ongoing discussions concerning next steps.
MRD testing with clonoSEQ
If you are not planning a transplant, your doctor may use clonoSEQ at initial diagnosis, then at various time points for added security and insight into your health.
Regular testing with clonoSEQ can also help you know if your cancer has returned, so you can treat it immediately.
clonoSEQ in action:
A case study
Let's look at how clonoSEQ helped a patient like you.
Remember, this is only 1 example—and clonoSEQ has helped people with many different multiple myeloma profiles.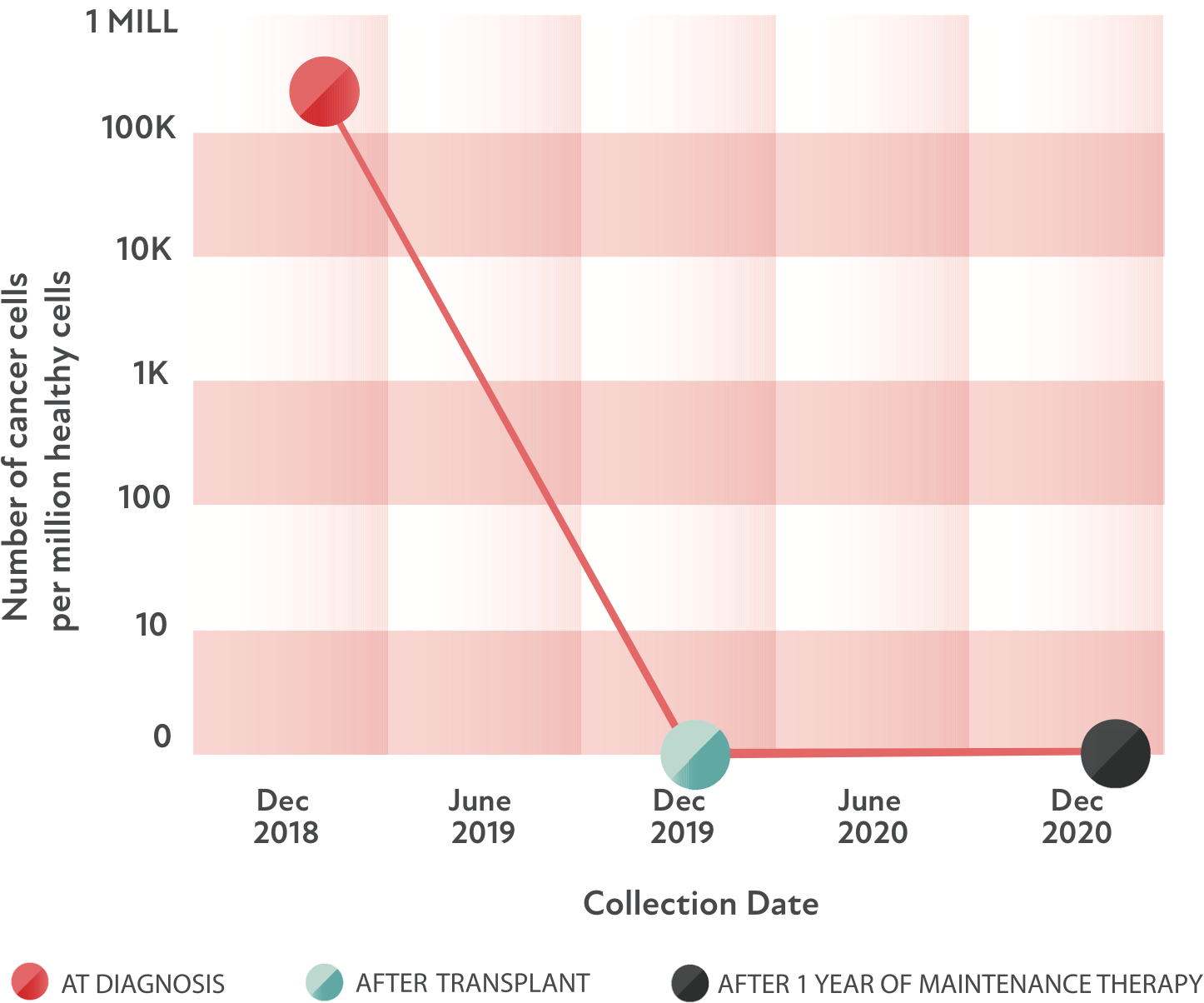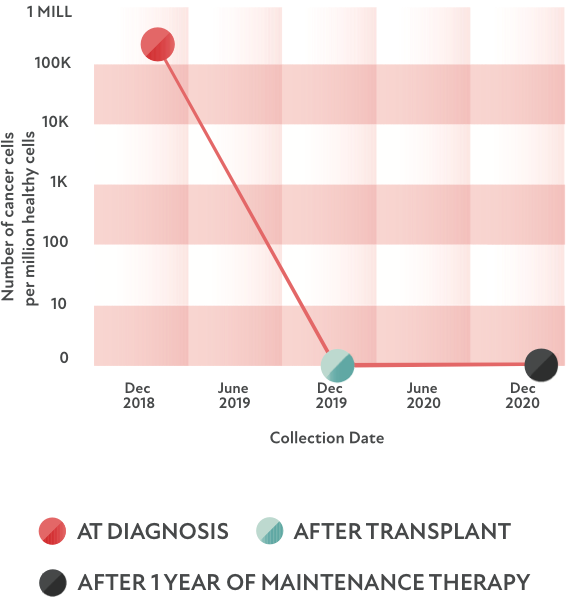 This is for illustration purposes only. The actual clonoSEQ report will look different, as shown here.
The patient: A man in his late 50s who received a stem cell transplant
The goal: For no detectable MRD to be present
The treatment: Targeted therapy plus corticosteroids followed by stem cell transplant and maintenance therapy
The result: Stable MRD after 1 year of maintenance therapy
The patient and his doctor decided to discontinue maintenance therapy but to closely monitor his MRD so they could continue to make informed decisions.
Karen: Multiple myeloma patient discusses clonoSEQ
"Once I was told I was MRD-negative, the effects on my life have been huge. I no longer have to define myself as being a cancer patient. I'm no longer a cancer survivor. I'm a thriver."
If you have multiple myeloma, talk with your doctor about clonoSEQ. Pinpoint where you are—and come up with a plan that works for you.
Questions to ask your doctor
---
This page is intended for a US-based audience.
clonoSEQ® is an FDA-cleared test used to detect minimal residual disease (MRD) in bone marrow from patients with multiple myeloma or B-cell acute lymphoblastic leukemia (B-ALL) and blood or bone marrow from patients with chronic lymphocytic leukemia (CLL). clonoSEQ is also available for use in other lymphoid cancers and specimen types as a CLIA-validated laboratory developed test (LDT).
clonoSEQ is only available by prescription from a licensed healthcare professional. Results may vary. Talk to your healthcare provider to see if clonoSEQ testing is right for you. For important information about the FDA-cleared uses of clonoSEQ including test limitations, please visit clonoSEQ.com/technical-summary.
References
Multiple myeloma. NCCN Guidelines®. Accessed November 9, 2021. https://www.NCCN.org/patientresources/patient-resources/guidelines-for-patients
clonoSEQ®. [technical summary]. Seattle, WA: Adaptive Biotechnologies; 2020. https://www.clonoseq.com/technical-summary
Martinez-Lopez J, et al. J Hematol Oncol. 2021;14(1):126.
Referenced with permission from the NCCN Clinical Practice Guidelines (NCCN Guidelines®) for Multiple Myeloma V.1.2022. © National Comprehensive Cancer Network, Inc. 2021. All rights reserved. Accessed October 19, 2021. To view the most recent and complete version of the guideline, go online to NCCN.org. NCCN makes no warranties of any kind whatsoever regarding their content, use or application and disclaims any responsibility for their application or use in any way.